Peaches are Perfect on Your O-Grill
Are you ever stuck thinking what to do for a dessert to follow a meal cooked to perfection on your O-Grill? Wondering how to make an exciting salad? There's nothing simpler than grilling some peaches for a delicious way to complete a meal. Peaches are an excellent choice because they are easy to grill and work well with a wide range of flavor combinations.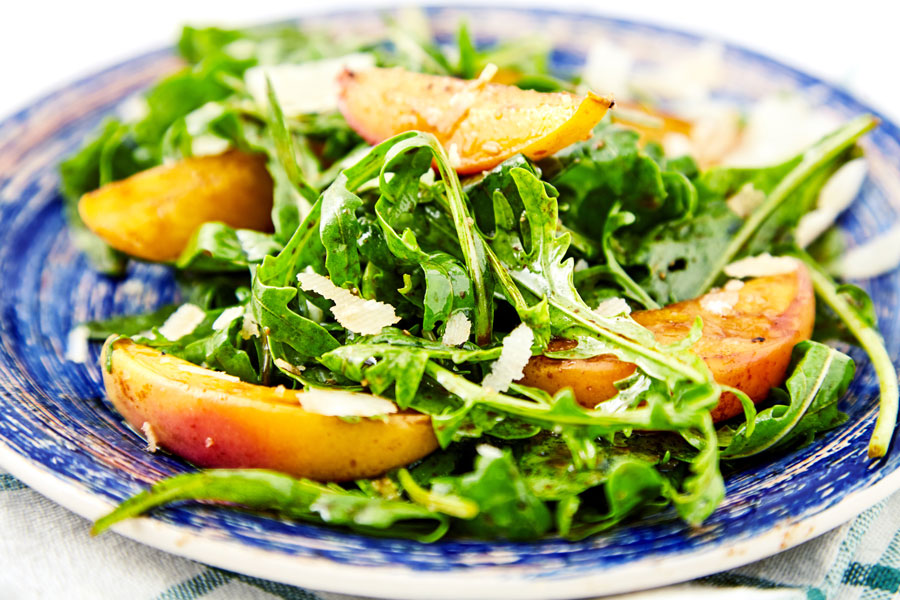 You can dress peaches with vinegar for a sweet & sour feel or add ice cream for a fruit sundae, you can even slice them and serve with parmesan flakes and some arugula for a truly alternative salad that will have your guests admiring your inventiveness, just don't tell them you found out about it here first!
Peaches are Perfect on Your O-Grill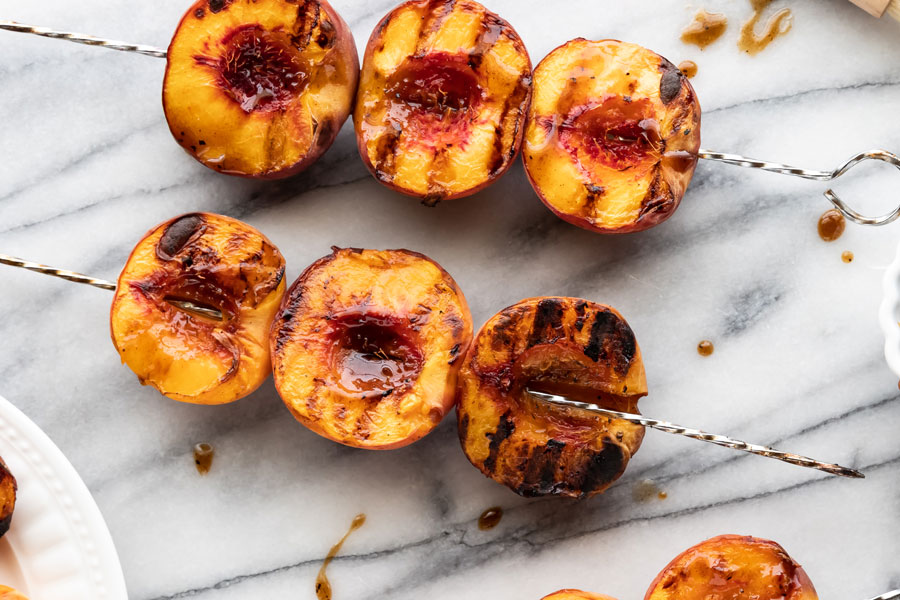 When you are going to grill a soft fruit, like a peach, it's best to cut them in half, remove the stone and then put several halves on a skewer. This makes it much easier to handle them on the grill.
Because peaches are very juicy and sugary they will caramelize quickly on the grill, leaving dark bands of toffee across the peach. If you are looking for a sweet & sour flavor, drizzling some balsamic vinegar on the peaches before you grill them will sear in the tangy taste of the vinegar without making the taste too sharp.
On a medium heat your peaches will be warmed through and caramelized in about 5 minutes, or even less, so you do need to keep your eye on them to make sure you don't overcook them – putting them on skewers makes it easy to lift them and check how they're doing!
Toppings, Dressings & Accompaniments
This is where you can let your imagination go wild. It's hard to make a mistake with peaches because they provide a very satisfying sweet base with a flavor that compliments sweet and sour dressings and sides and works well with dairy textures and flavors as well as savory garnishes.
Ice cream, whipped cream, chocolate sauce and berries all complement a warm freshly grilled peach very well, and the colors will look great on the plate as you serve them to your guests! A simple scoop of vanilla with some mint leaves for dressing may be all you need to make an excellent impression.
For something a bit different, as well as balsamic vinegar you could add some feta cheese or grill up some crispy bacon to crumble on top. The contrast between sweet, sour and savory flavors as well as the change in textures makes for a delightful and unforgettable combination. Savory combinations can easily be combined to make a side salad to serve with the main course.
When your peaches are cooked, take them off the skewers and serve immediately with the topping, sides or dressing you prefer. They're good on their own straight off the grill, heavenly with a bit of balsamic, and will have your guests wondering if they've been transported to a different dimension!